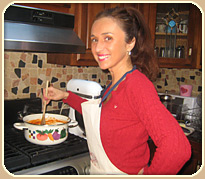 My experience with food:
Hello. My name is Destina Moga. I am the creator of the Makeovers Program. In the Makeovers Life food section, I want to teach people how to organize a kitchen and be able to cook healthy meals from scratch in a timely manner.
I used to own a restaurant in the 1990's in Fayetteville, Arkansas. There was a restaurant space available in the building that housed my clothing store.
I've always loved the restaurant business so I asked around about the space. I wanted a restaurant . I thought to myself what a great life calling to cook good food for lots of people. I bought everything in the restaurant from the bank for $5,000. Every creative fiber I had went in putting my new restaurant together.

My beloved Tangos Restaurant

I named it Tangos. On the front window the words, "Good food. Good company", painted in bright colors said it all. Eventually, I got a liquor license and expanded the seating capacity to two dining rooms. Tangos served breakfast, lunch, and dinner seven days a week. We were only closed for Sunday dinner. That's when I would clean the entire kitchen and take inventory for the next week.

Since I left the restaurant business, my food needs changed drastically.
Having the restaurant experience changed the way I organize my kitchen. I've always loved cooking. After I left the restaurant business, my kitchen skills were kind of at a loss. All of the passion that went in creating menus, daily specials, doing large parties and events, and feeding a zillion customers had to go somewhere.
My skills shifted in organizing my own private kitchen at home. I began to organize my kitchen intuitively like a commercial restaurant kitchen.

Good cuts of meat bought in bulk and will be divided into portions

I go to Costco and buy most of the food in bulk.

I divide up the big cuts of meat and store them in the freezer by categories in small portion sizes.
I do not buy any boxed or processed food. I know how to make everything from scratch. Every recipe that I cooked at the restaurant is in my head.
I love food and know what is good for you and what is not. I've tried many ways over the years to eliminate anything processed out of my family's diet. I love the cook that I've become for my family.
Makeovers-Food comes from a place in my heart that is very dear to me. I now know why I worked so hard at my restaurant. Fate had given me all the tools necessary to write a simple program on how to bring good food into someone's life and teach it to others.
Many people have tried the Makeovers-Food program for themselves and have had great success in organizing their kitchens and cooking the recipes in the program.
Oxygen...Water...Food…Food is the third most important ingredient in our lives...
Makeovers Food has devised a plan to do just that!
Makovers samples are viewable with Adobe Reader. If you need to download Adobe Reader, click the Get ADOBE READER button. The Adobe Reader download page will open in a new window.