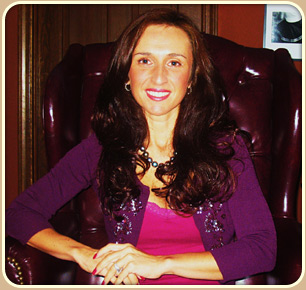 Destina Moga - Creator of Makeovers Program
Hello. My name is Destina Moga and I am the creator of the Makeovers-Life program. I am 38 years old. 100% Romanian. My family (mother, father, grandmother, grandfather, aunt, uncle, and 1 boy cousin) immigrated to the United States in 1979. I was 9 years old when we landed in New York City.
Life in America from a bird's eye view:
America looked and felt like a heaven on Earth. The one thing this country represents to me above all else is order. The American way of life thrives on organization first and foremost. The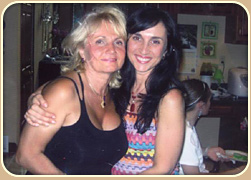 My Family - Mom, Dad, & Brother Alex
typical work week begins on Monday and ends on Friday. The weekends are set aside to spend time with family, chores around the house, running errands, and hobbies like bike riding, crafts, camping, sports- playing/watching, and taking short trips to visit a museum or festival. Mom and Dad get a date night every once and a while.
The American household is a work of art. Every room in the house has a designed purpose. Living room, dining room, kitchen, bath, office, bedroom, garage, and laundry room. Each family member pitches in to keep the home in working condition. Outside of the home is a neighborhood filled with people that have the same lifestyle. Our home's manicured green lawn beside the neighbors' lawns to create this gorgeous puzzle of contentment.
In America, you can create whatever life you want. The possibilities are endless. Working hard in this country is a passion; a way of being. A means to an end. When you put your heart into something you love to do, sometimes with a little luck, you get what you need and it makes your family content. This is only the first goal.
Maintaining this lifestyle after reaching your level of success, whatever that may be, is the other goal. Keeping your wits about you and maintaining contentment and balance in your life is the other part of the journey we call life. Getting what you want is only the beginning. Maintaining what you worked so hard to achieve and liking what you got is the other part of being a successful and balanced human being.
I lived in many different places when we first came to America. I did not speak English, and I was eager to learn everything about this country. Its language, its customs, and all about its people. I did that and put on the American personality like a beautiful outfit. In one year's time, I felt American and proud of it. Moving from a gray place like Communist Romania to the United States of America has taught me to be grateful for every luxury this country has to offer from the smallest gestures like the holidays that are sprinkled over our calendar year to the biggest ones like safety and freedom in our everyday lives. Moving around a lot through my elementary school years made me very social. I still love meeting new people and I acquired the art of conversation early in life. It shaped who I've become today.
The family business, my family, and my education:
In 1982, three years after we arrived in the U.S., my mother opened a daycare center in the basement of a church. We struggled those first few years with everything – the language, my family's new jobs, and attempting to set roots in our beloved new country.
My mother named the new daycare center Le Chaperon Rouge. We all worked hard to give our customers the best care possible for their children. My mother has an instinctual way of how to do something right and to keep on doing it for always. Since 1982 Le Chaperon Rouge has become a great success under the wings of its loyal creator – Stella Moga. We've opened fourteen centers and sold six. We now have eight centers throughout the Cleveland area and a private elementary school in Westlake that goes up to 5 th grade.
I grew up an only child. I always dreamed of having a little brother. My mom was pregnant with my brother Alex in 1980. I was eleven years old. My life long dream had come true.
Alex was born 3 months premature and weighed one pound eleven ounces. We prayed a lot and one night Alex just started breathing on his own in the incubator. The doctors all said it was a miracle. He pulled through and came home in May of 1981. Having a baby in the house just as I was becoming a teenager, I knew I didn't want the responsibility of having a child until later in life.
In 1984, Le Chaperon Rouge was thriving and my family built a home in Westlake, Ohio. I started at Westlake High School in 9 th grade. I graduated from there in 1988. I was a very social person in high school and swam between social cliques like they did not even exist. I was always in a dress, skirt or suit and ignored the trends of khaki, jeans, and tennis shoes that make up the classic American uniform. I was fair and decent to everyone. I liked who I was becoming.
I decided to attend college in Erie, Pennsylvania at Gannon University. I majored in Political Science and tinkered with a lot of electives in Italian, Latin, French, the Philosophy courses, and beginner's courses in Psychology. I liked learning about government and world politics. I wanted to go to law school and take the civil service exam.
Two of the four summer semesters at Gannon, I spent in Washington D.C. at Catholic University and by my last year of college, I knew that the bureaucrat's life is not for me. I am a Democrat dressed in a Republican's lifestyle.
I came home to Cleveland after college. In 1992, Le Chaperon Rouge had grown to five schools and quite successful. I was 22 and acquired a strong case of wanderlust. I decided to go by myself to Europe for four months. I bought a train pass and went everywhere – Italy, Spain, France, England, Holland, Belgium, and Romania. I came home and Mom took my brother Alex and I on a cruise. I met a wonderful young man that lived in Arkansas. I was working at Le Chaperon Rouge and could set my own schedule.
The creation of my two stores-A Line, The Source, and my restaurant-Tangos.
In 1993, I decided to move to Fayetteville, Arkansas. I had some money saved up and went there with the intention to open my own resale shop. My grandmother and I loved resale shopping together so I was quite savvy at creating my store. I named the store A-Line. I stayed in business for a year and a half. I learned to work hard and loved my new business. I was able to make and save money. I sold A-Line and it is still in business today.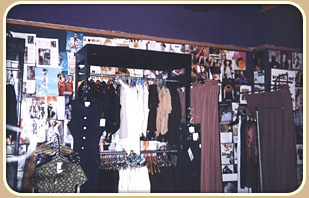 The Source Clothing Store
I outgrew the resale shop. I wanted to open a new store in the same location with trendy clothes from New York and Los Angeles. After I sold A-Line, I went to New York to buy clothes and opened a new store called The Source. The Source was also a success. I had a great customer base and my marketing approach was to bring the New York fashion attitude South. It worked and the ladies in town could not wait for me to get back from New York every trip I made.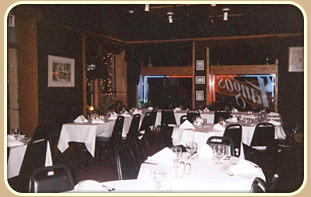 My beloved Tangos Restaurant
In 1996¸ the bakery in the same building as The Source decided to close without notice. I've always loved the restaurant business so I asked around about the space. I wanted a restaurant. I thought to myself what a great life calling to cook good food for lots of people. I bought everything in the restaurant from the bank for $5,000. Every creative fiber I had went in putting my new restaurant together. I named it Tangos. On the front window the words "Good food. Good company", painted in bright colors said it all. Eventually, I got a liquor license and expanded the seating capacity to two dining rooms. Tangos served breakfast, lunch, and dinner seven days a week. We were only closed for Sunday dinner. That's when I would clean the entire kitchen and take inventory for the next week. I begged my mother to come to Arkansas five months after Tangos opened and buy the three story 22,000 square foot building that housed the restaurant, clothing store, my condo, office space, and three huge other condos. She was so impressed by my entrepreneur spirit at such a young age that she did come and buy me the entire building. I no longer had to pay rent. I now became the proud owner of my own building. I had a mortgage and a big one at that. The whole clothing /restaurant /landlord experience in Fayetteville, Arkansas showed me that I can work 100 hours or more a week when I love what I am doing. This time in my life also taught me how to make money and not spend it. Saving money is a skill that every business owner should master.
The birth of my daughter, Isabella and my son, Marcus.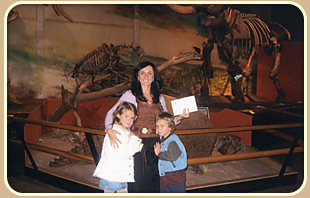 Destina, Isabella & Marcus
In 1998, I got pregnant with my daughter, Isabella. Her Dad , Lee, worked for me as a sous chef at Tangos for years. I gave birth to Isabella in March, 1999. Lee has three passions in life; his children, climbing, and cooking in that order.
Having Isabella is the greatest gift in my life. When I held her for the first time I knew that my only wish is to see her grow and to take care of her for as long as fate would let me in every way I could.
My main priority shifted from my business which required undivided attention from me or it was going to suffer to my new baby girl whom I loved above all else. Also, since Isabella was born, my mom started coming to Fayetteville every couple of weeks. She could not stay away from her new grand daughter for very long. Five months after Isabella was born, I felt homesick for Cleveland. I wanted to go home and be near my family. Isabella needed my family more than I needed my beloved business in Arkansas.
I came home in 2000 not knowing where my fate would lead me. I moved in with my Dad for the first few months. I loved being with my Dad. He is always the measuring stick for the choices in my life. Whenever I ask myself the question "What should I do about this?" My father's voice is the voice of good choices. He was happy that I came home.
Within months of my homecoming, my father decided to retire from teaching after 21 years and move back to Romania. I knew that it was the right choice for him, but hard for me. I would miss him and his guidance in my life.
In September,2001, Lee and I had a son, Marcus. I was a happy mother to have been blessed with now two beautiful children. When I held my baby boy, I knew my life is wonderful. I am given two beautiful little angels to take care of and mold to the best of my ability. I am doing my best to take good care of them.
The creation of Makeovers Life and Makeovers
Curriculum
Le Chaperon Rouge had not grown while I was in Arkansas. We had four schools and doing fine. In 2000, my mother decided to go on a building spree. Over the next five years, we doubled in size with five new daycare centers throughout the Cleveland suburbs. The growth spurt made managing a small business challenging. All of the issues we managed from a small business owner's perspective. We needed a management style makeover in a hurry. We hired a new manager. I trained Shelly, our new manager for eight months. Since she came in with a lot of experience at Le Chaperon Rouge, she took to managing our wonderful schools like a fish to water. We learned to let a manager manage the business.
Our curriculum was good over the years, but it was not our own. In 2003, I sat at my kitchen table with Shelly, our general manager and began putting together a new curriculum from the ground up. First, I went to the library and made an outline of what subjects I wanted to teach to our preschoolers. I ended up with ten categories. Second, I made a goals list. The curriculum was excellent. I was proud of it. The curriculum had all the necessary components to make a successful pre-school experience for all of the children at Le Chaperon Rouge. I trained every teacher on how to teach our new curriculum. We've been teaching this new curriculum for five years now and are pleased with the results.
Makeovers Life-Food
Since I left the restaurant business, my food needs changed drastically.
Having the restaurant experience changed the way I organize my kitchen. I've always loved cooking.
After I left the restaurant business, my kitchen skills were kind of at a loss. All of the passion that went in creating menus, daily specials, doing large parties and events, and feeding a zillion customers had to go somewhere.
My skills shifted in organizing my own private kitchen at home.
I began to organize my kitchen intuitively like a commercial restaurant kitchen.
I go to Costco and buy most of the food in bulk. I divide up the big cuts of meat and store them in the freezer by categories in small portion sizes.
I do not buy any boxed or processed food. I know how to make everything from scratch. Every recipe that I cooked at the restaurant is in my head.
I love food and know what is good for you and what is not.
I've tried many ways over the years to eliminate anything processed out of my family's diet. I love the cook that I've become for my family.
Makeovers-Food comes from a place in my heart that is very dear to me. I now know why I worked so hard at my restaurant. Fate had given me all the tools necessary to write a simple program on how to bring good food into someone's life and teach it to others.
Many people have tried the Makeovers-Food program for themselves and have had great success in organizing their kitchens and cooking the recipes in the program.
Makeovers Life-Appearance
Having been in the clothing business taught me about the importance of one's appearance. The way we feel influences our appearance. My personal style is influenced by my European background. I am more comfortable in a skirt or a dress with a pair of strappy low heeled sandals than I am in a pair of khakis or jeans. I definitely inherited my grandmother and mother's feminine style.
Having a resale shop made me budget conscious. I would leaf through high fashion magazines for ideas on what key pieces were in style for the season then find alternatives resale shopping. A good pair of black pants, a well tailored jacket, a chunky cardigan sweater, etc. is always in style. Key wardrobe building pieces are timeless.
Shopping in New York for my store also taught me the value of good Italian shoes. To this day, I turn over every shoe when shoe shopping to see where they were made. The label on the shoe does not matter as much as where the shoe was made . Most of the shoes sold in stores are made in China. It is far and few between to find a pair of Italian shoes especially in a discount store. I still only buy Italian shoes. If I can't find a pair shopping, I just don't buy any at that time. It's one of the great rules of having a solid wardrobe to get dressed out of everyday.
Ever since I was a teenager, I've taught myself the value of having a good beauty routine -how to clean and moisturize your skin, makeup routine, cut and color hair, different styles for hair with hair accessories, hair removal with wax and tweezers, and nails. For example, knowing how to do a manicure and pedicure like a professional salon will save a lot of money over a lifetime.
Makeovers Life-Fitness
Physical activity in my life is unstructured. I am not drawn to organized sports. Growing up in Romania, I spent all of the good weather months outside - - fishing with my Dad's brothers, swimming, playing tennis with my family and friends, and climbing lots of trees. I continue my favorite childhood activities with my children to this day. After my daughter, Isabella, was born, my body changed drastically. The weight was not coming off. I was not physically active enough to lose weight. I bought a stroller and began to take my daughter Isabella for walks in the afternoons. Bella would nap and I would have the freedom of walking for about 2 hours. Over the first 6 months of my new walking routine the weight started to melt off. My body got stronger and to my own surprise, I actually began to run part of my route. That was eight years ago. I love my running time now. Not always though. Sometimes I have to trick or treat myself into going, especially in the winter. I love the strength of my runner's body and the way I feel knowing that I live in this body and it's healthy because I run. The other side of my fitness routine was slowly added over the past five years. I am a little woman standing 5 feet tall and 110 pounds. I tried the machines at our fitness club. Those machines overwhelmed my joints and messed up my back. Also, when I tried videos to workout, they bored me. I've developed my own way of working out. I researched online, in fitness books, and magazines different exercises. I committed hundreds of these exercises to memory so that I can do them anytime and anywhere. Having so many wonderful exercises committed to memory allows me to create my own workout routines on a regular basis. This is how I created the Makeovers-Fitness program. The key here is to learn the yoga poses and the repetitions exercises so that you can do them anytime and anywhere interchangeably. Once you master these exercises, you are going to want to seek out more on your own. The learning never ends. I also spend time each week dancing with my kids, dancing to my favorite tunes in the mirror, playing tennis, swimming, running, and going to the local playground and playing with my children. Staying active has become a way of life for me and not just a workout regimen. This is the magic I want to share in the Makeovers-Fitness program.
Makeovers Life-Meditation
In 1994, I had a wonderful woman walk into my resale shop in Fayetteville, Arkansas. I was really friendly with my customers so we talked for a long time. I came to find out that she is an Avatar Master trained to deliver the Avatar program to new students. I was interested in what Lia had to say about the Avatar program. It is a course in changing your beliefs system so that you can react differently to what life throws at you. The "if you keep doing what you are doing, you're going to keep getting what you're getting" policy comes to mind. The Avatar course takes nine days. I did meditation exercises eight hours a day. It cost $2,000. I was always a curious child and a 'question authority' kind of teenager. So when fate brought Avatar into my life, I knew this may change me at my core. It did. Learning to meditate to manage my thoughts so that I would react differently to my life changed my entire personality. Avatar showed me a new way of being in every aspect of my life. I began to build trust between me and my choices. Again, I loved who I was becoming. I spent the next seven years working on my emotions and well being like never before. I now had tools that could guide me in any situation life threw at me. I was finally aligned with my fate instead of a person living life in automatic from my past beliefs and my upbringing. I decide. In 2001, while I was pregnant with my son, Marcus, I went to Florida to take the Avatar Master's course to be able to deliver Avatar to other students. I also went to California and did my internship with real students. It was an experience I will always cherish. All those people working together towards a common goal-to teach people how to manage their lives aware and self empowered. Over the last seven years, I've fine tuned my meditation process to include some major breakthroughs. Life is a great teacher when your spirit is awake, aware, thriving and really wanting to be here. Whenever something happens in my life, I now look for the higher meaning. What lesson am I supposed to have learned from the incident at hand? Whenever I master one of my life lessons, new spiritual doors open towards even greater understanding and what I'm supposed to teach the future generation–my children and what I'm supposed to leave in the past.
A balanced life means many things- a nurtured spirit, a healthy body, good relationships with family, and a circle of friends that accept all of our decisions. In the Makeovers-Life Meditations and Life Lessons section, we try to ignite a connection to the social butterfly that is inside each and every one of us. As social beings, we all wish to have people around us that are there for us. Friends that nurture our spirit and, in turn, we nurture theirs. Creating a space to bring new friends into our world is key. I have lifelong friends that have been my true soul mates over the years. They brought a rainbow of emotions to the milestones in my life. I have also felt the importance of adding new friendships to my circle.
When Lee, my children's father, and I broke up in 2004, I had to reinvent my single personality. It became quite a quest to find a suitable partner as a single mom. I discovered many avenues for meeting new suitors-going out to benefits and parties for charities, little wine bars in my neighborhood, jazz and local band clubs, getting set up by friends, and my favorite, online dating. When you have the rest of your life in balance, it is easier to spot a good match and bypass the ones that have trouble written all over them. I found a special relationship on Match.com. He is just right for me. We've been dating for three years now. We have our ebbs and flows just like everyone else. We both know how lucky we are to have found each other.
When a category in your life is missing or off balance like being in a good relationship, having the right tools to know how to get one and be happy once you decide that it's the right partnership for you is a skill. Makeovers-Life has a section on relationships-how to get one just right for you and the tools you need to keep it balanced-communication, honesty, compromise, romance, and passion.
A final word
My life is a gift everyday. I wake up and count my blessings from the biggest to the smallest. Things happen to me just like they happen to everyone else. I have taught myself to react with patience and to find my lesson in every reaction. My gut instinct now veers to keep the peace rather than win a fight. I like who I've become and the goodness that I've created in my life. I wish to share the lessons that I've learned to help bring balance into other people's lives. This is my way of paying forward so many blessings.
You be the change you want to see in our world. Create a space in your mind, spirit, and life that makes you feel self empowered. The Makeovers Program wishes you peace and joy.
Thank you and all my best,
Destina Moga